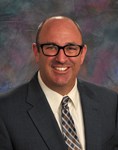 School doors first opened on the Palos Verdes Peninsula 90 years ago. While many things have changed over nine decades, the desire to deliver the best possible experience for kids remains at the core of our work. We take pride in honoring the past and building upon a tradition of excellence as we are faced with new challenges and opportunities to find the next right answers.
One of our major goals is to help all students reach their full potential academically, socially, emotionally, intellectually, and creatively. This is no small task and requires focused and strategic planning. The PVPUSD is an award-winning district, well-known for academic achievement, strong extra-curricular programs, amazing STEM programs, and powerful teaching and learning. Despite these truths, we operate with a sense of urgency to ensure all students flourish in an ever-changing and complex world.
We believe that technology will play an important role in the strengthening of our programs, allowing students to interact with content, peers, and teachers in ways once only imagined. Our infrastructure is undergoing evaluation to determine our capability to handle new tools and connectivity requirements to handle the evolving demands of providing a World Class and innovative experience. The same type of evaluation is being conducted for our facilities to identify opportunities to enhance our learning environment on behalf of our students and employees. In both cases, we will proceed thoughtfully and strategically.
The new year is filled with lofty goals. We have lowered class sizes by adding staffing at all levels despite a slight decline in enrollment consistent with the region. We have added custodial and grounds positions to maintain our facilities and provide safe settings for our students. Our Board of Education allocated over $1 million for a K-8 math adoption and professional development plan that is already delivering results. The second phase of the math adoption is in progress at the secondary level with selection of textbooks scheduled for this spring.
The success of our schools is a combined effort between the PVPUSD, our parents, and our broader community. The local PTA support is powerful, evidenced by thousands of volunteer hours, amazing engagement in our schools, legislative advocacy, emergency planning, and sponsorship of numerous site activities. The Peninsula Educational Foundation generates well over $3 million a year to support all of our schools. Their efforts have had a profound impact on our programs, including significant support of our nationally-recognized STEM program. The entire community invested in our schools through the passage of a perpetual parcel tax, demonstrating their shared belief of the importance of strong schools.
On behalf of the Board of Education and the employees of the Palos Verdes Peninsula Unified School District, thank you for entrusting us with your children. We take that honor seriously and pledge our best effort to each family.
Sincerely,
Donald B. Austin, Ed.D.
Superintendent of Schools
Please consider following us on Twitter:
@pvpschools
@DonAustin_PVP