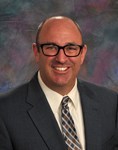 Don Austin, Ed.D.
Superintendent of Schools
(310) 896-3404
Dr. Donald Austin is a lifelong educator who has dedicated his entire career to ensuring all students possess the skills and knowledge they need to lead successful lives. He began serving the World Class Palos Verdes Peninsula Unified School District on Aug. 11, 2014.
A California native, Dr. Austin grew up south of San Diego in Chula Vista. He developed a strong work ethic and an appreciation for the importance of teamwork during his years as a football player and team captain at Baker University in Baldwin City, Kansas.
Early in his teaching career, Dr. Austin quickly emerged as a natural leader. At age 30, he was chosen to be the principal of La Sierra High School in Riverside, California, where nine of his former staff members eventually became principals. During his six-year tenure at the 3,000-student school, Advanced Placement course enrollment grew by more than 300 percent. In addition, La Sierra High School's Academic Performance Index score (California's former school ranking system) increased by 125 points.
As principal of Laguna Beach High School, Dr. Austin and his staff earned National Blue Ribbon and California Distinguished School recognitions. Laguna Beach High School also was one of only two Orange County school districts to make the Advanced Placement District Honor Roll.
Dr. Austin served as the Assistant Superintendent of Educational Services for the Huntington Beach Union High School District for three years. In his role, Dr. Austin guided work leading to their first distinction as an Advanced Placement District Honor Roll recipient, created a large-scale online course option for students, significantly increased A-G completion rates, and implemented a Parent University model recognized throughout the region for outreach for parents.
Dr. Austin's first four years in PVPUSD have been eventful, including the adoption of math curriculum and textbooks, creation of online options for students, coordination of a robust professional development plan for certificated and classified employees, website redesigns, California School Boards Association recognition for strategic planning, multiple Gold Ribbon schools, a Golden Bell winner, a comprehensive Facilities Master Plan and top rankings in the state and nation.
Please consider following Dr. Austin on Twitter: